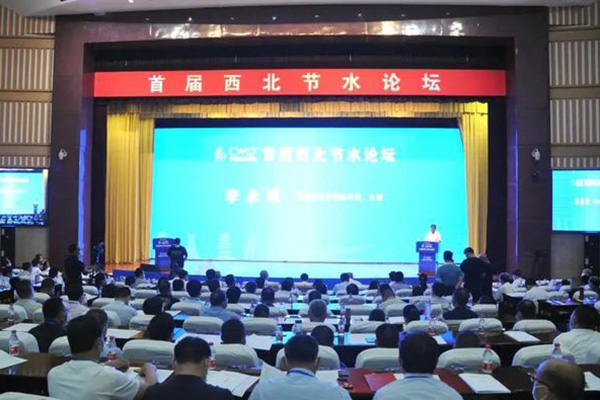 On July 3, 2021, Jiuquan Municipal People's government, Gansu Provincial Committee of China agriculture and industry Democratic Party, Department of water resources of Gansu Province and DAYU Irrigation Group Co., Ltd. jointly held the First Northwest Water Saving Forum in Jiuquan, Gansu Province. The forum is aimed at thoroughly implementing the new development concept of "Innovation, Coordination, Green, Open and Sharing" and the new idea of "water conservation priority, space balance system to control both hands" in the new era, proposed by general secretary Xi Jinping, comprehensively promoting the ecological protection and high quality development strategy of the the Yellow River River Basin, implementing the national water saving action, and promoting the intensive and safe utilization of water resources. To serve rural revitalization and ensure regional water security and sustainable economic and social development.
The participants of the forum were leaders, experts, scholars and well-known entrepreneurs from the government, institutions, enterprises, scientific research institutes, universities, financial institutions and other units. Guests and representatives gathered to discuss water conservation planning and policies during the 14th Five Year Plan period, modernize large and medium-sized irrigation areas and improve water conservation technologies, comprehensively manage mountains, rivers, forests, fields, lakes, grass and sand, efficiently utilize regional water resources and innovate water conservation technologies, and jointly draw a high-quality development blueprint for water conservation undertakings and cities in Northwest China!
On the morning of July 4, the participants also visited the equipment manufacturing research and development base of DAYU Irrigation Group Jiuquan Headquarters, Suzhou District Gobi Ecological Agricultural Science and Technology Innovation Demonstration Park, China-Israel (Jiuquan) Intelligent Compound Greenhouse, High-standard Farmland Efficient Water-saving Demonstration Base of Xidian Village, Zongzhai Town, Suzhou District and other places.
---
Post time: Jul-03-2021