Inlaid patch type drip irrigation tape
Product Detail
Product Tags
The water-saving intelligent irrigation is the most effective water-saving irrigation method in the drought and water shortage areas at present, and its water utilization rate can reach 95%. Drip irrigation has a higher water-saving and yield increasing effect than spray irrigation, and it can combine fertilization to improve the fertilizer efficiency more than twice. It can be used for irrigation of fruit trees, vegetables, cash crops and greenhouses. It can also be used for irrigation of field crops in drought and water shortage areas. Its disadvantage is that the emitter is easy to scale and block, so the water source should be strictly filtered. At present, domestic equipment has basically passed the standard, and drip irrigation should be actively developed in areas where conditions permit.
1. Embedded flat emitter drip belt is an integrated drip belt that embeds flat shaped emitters on the inner wall of the pipe belt, and is widely used in greenhouse Irrigation of cash crops in shed and field.
2. The emitter is integrated with the tube belt, which is easy to install and use, low in cost and investment.
3. The emitter has a self filtering window with good anti clogging performance.
4. Labyrinth flow passage is adopted, which has certain pressure compensation effect.
5. The distance between emitters can be determined according to user requirements.
The embedded patch type drip irrigation belt is widely used in various drip irrigation projects such as cash crops, vegetables, flowers, tea gardens, fruit trees, cash trees and cash crops in greenhouses and greenhouses.
The embedded patch type drip irrigation belt saves water, energy and labor, and is convenient for fertilization; Keep the soil firm, which is conducive to the development of crop roots; When used in greenhouses, it can control the surface temperature and humidity, reduce the occurrence of diseases and pests, increase production, income and benefit.
Nominall
Diameter
(mm)

Nomina
Wallthickness
(mm)

Emitter
Spacing
(mm)

Nominal
Flowrate
(L/H)

Working
Pressure
(Mpa)

Lateral
Length
(m)

16

0.15 0.16 0.18




0.20.3 0.40.5




0.60.8 1.0 1.1 1.2

100-2000

1.38

0.1-0.3

200-600
Depends on Inlet
water pressure and
outlet pressure

2.0

3.0

Remarks: Emitters Spacing can choose from 100mm-2000mm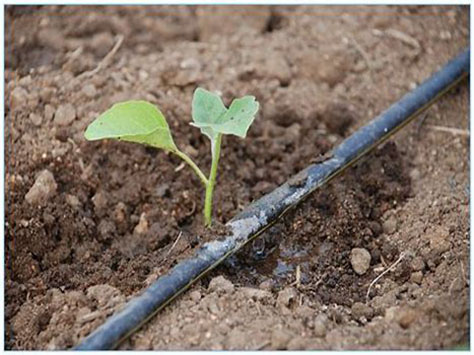 Items

Character Index

Test Euipment

Test Standards

Tensile Strength

≥5%

Tensile Tester

GB/T 17188-97

Environment
Temperature Resitant to
Hydrostatic Pressure

Keeping working for one hour at
The maximum Working pressure 1.5times. No Break, No leakage

Hydrostatic Pressure
Tester

GB/T 17188-97

Burst Pressure

No Break, No leakage

Environmental stress
cracking device

ISO 8796

Pressure-Flowrate

Q≈kpr (r≤1)
Q—Flowrate(L/h) P—Inlet Pressure(kpa)

Pressure-Flowrate
Tester

GB/T 17188-97

Content of Black
Carbon

Content:(2.25±0.25)%

Tube type furnace, Ma
Fulu

GB/T13021

Dispersion Of Black
Carbon

Dispersion:Dispersion Grade≤3 Grade

Oven, Mircoscope,
Slicing Machine

GB/T18251
 Q1: Are you trading company or manufacturer ?
A1: We are manufacturer.
Q2: Do you have your own R&D team?
A2: Yes, we can customize products as your requirements.
Q3: How about the quality?
A3: We have the best professional engineer and strict QA and
QC system.
Q4: How's the package?
A4: Normally are cartons, but also we can pack it according to
your requirements.
Q5: How's the delivery time?
A5: It depends on the quantity you need, 1-25 days usually.
---
Previous:
buried drip irrigation tape
---